Are you searching for KL tour guide and packages for your next holiday? You search ends here. We are a Malaysian-based professional and experienced private tour and packages company that offers discerning yet budget-minded visitors from all over the world with a resourceful guide and personalized Kuala Lumpur tour packages at affordable prices. Read on to find out how to enjoy your stay in your next visit to Kuala Lumpur.
Background History
Established in 1859 and granted city status in 1972, the culturally, geographically, and economically diverse city of KL, which serves as the federal capital of Malaysia, has developed into a first-rate and in-demand destination for both business and leisure-oriented visitors from all over the world. Nestled in the center of Selangor state, and weaving together a delectable slice of rich history and bygone era charm, matched with a plethora of modern big-city amenities, the sprawling, vibrant, and progressive city of KL is the sixth most visited city on the globe.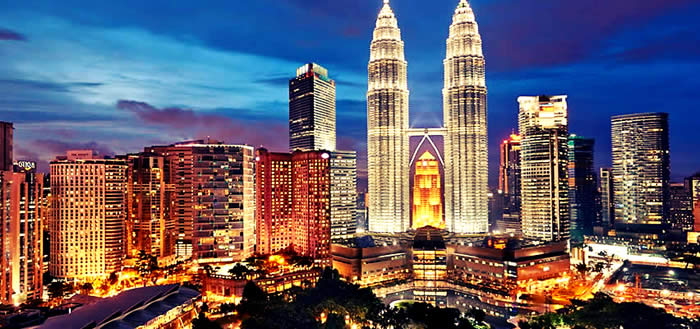 With roots in the early days of tin mining, Kuala Lumpur hosts an eclectic mix of internationally-acclaimed architecture, ranging from steel-clad, cutting-edge skyscrapers, to awe-inspiring Mogul domes, minarets, and other renowned sites featuring Indo-Moorish architecture and colonial-era buildings. The bustling is city is also home to dozens of shopping malls and sophisticated retail stores, elegant restaurants, art galleries, museums, and lush recreational areas. Over the years, it has evolved into becoming the administrative, economic, health care, education, entertainment and multi-media hub of the Klang Valley along with being a mecca for the architecture, fashion, and other key global industries.

The vibrant, burgeoning, and cosmopolitan city, more popularly known as KL encompasses an impressive array of one-of-a-kind landmarks that stand as testimony to the meteoric rise of KL right up to the status of an alpha global city and a celebrated 21st century metropolis.
The Best Kuala Lumpur Day Tours Guide
We proudly offer discerning yet budget-minded visitors from all over the world a comprehensive, privately organized and competitively-priced city tour allowing you to explore at your own pace the fascinating city of KL. Ideal for first-time visitors of K.L., including families with children, our 3.5-hour KL tour covers all the major landmarks of a distinctively charming alpha global city, blending an old-world aura with all the modern-day amenities.
Tourist Attractions
Enjoy From photo stops at the iconic KL tourist attractions like:
Petronas Twin Towers and the nearby KL Tower,
History-rich Independence Square (aka Merdeka square),
Scenic old Moorish heritage site known as the Railway Station
Fascinating National Mosque
Majestic King's Palace, the epitome of Malaysian sovereignty.
You will also get to have drive passes to such famed landmarks including the Golden Triangle and KL Gallery, the luxurious Lake Gardens. Other options may include the  Beryl's Chocolate Kingdom and Dong Batik Craftsmen Center to watch a live batik making demo. Our best-selling city tour ensures a rewarding and cost-effective sightseeing experience.
Recommended Itinerary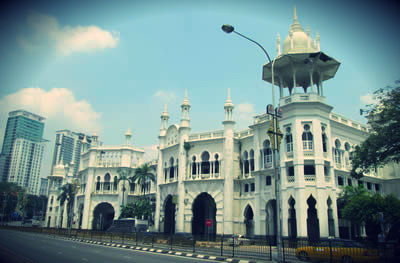 Meet your local, professional driver, and English-speaking guide upon pickup from your hotel either in the morning, at 9 am or in the afternoon at 2 pm. From there, you can start embarking on a memorable private tour via an air-conditioned, comfortable coach. Capture on film two magnificent city symbols dominating the KL skyline:  the breathtaking Petronas Towers, the tallest twin buildings in the world, which is composed of two 88-story Islamic masterpieces built in postmodern architectural style; and the equally impressive KL Tower, the highest viewpoint in KL and the seventh tallest telecommunication tower in the world.
Drive past the picturesque and sprawling 91.6-hectare urban park known as Lake Gardens on your way to admire the National Monument. The monument commemorates Malaysia's fight for freedom during World War II. Nearby, feast your eyes on the amazing modern construction of the National Mosque of Malaysia, built in modern architectural style in reinforced concrete to symbolize the country's newly-gained independence. After a brief sightseeing, make sure to also  experience the unique balance of Eastern and Western architecture of the historic K.L. Railway Station, built in 1886 and remains operational to this day.

Utmost Tour Services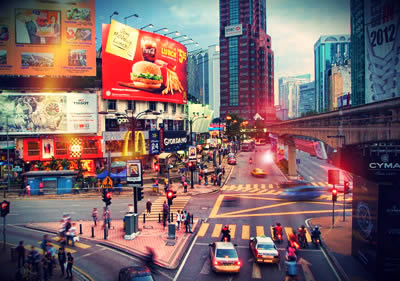 Our incredibly affordable package includes a private city tour, hotel pickup and drop off at any KL city hotels, professional driver and English-speaking guide, transport by air-conditioned coach, and WiFi in selected coaches. The tour package excludes personal expenses for food and drinks, travel insurance as well as entrance fees to the Petronas Towers and K.L. Tower.
Be our guest and get ready to experience the past, present, and future of KL in comfort and style, and within budget courtesy of Kuala Lumpur Tours. We also offer day trips from KL to nearby attractions such as Batu Caves, Malacca and Putrajaya.
Ready to Book Your Trip Now?
Check out our popular day tour packages here.
Kuala Lumpur Half-Day City Tour
Kuala Lumpur Combo Tour